A bathroom upgrade doesn't always mean adding luxury features or having a complete overhaul. Most of the time, all you need to do is take stock of what you do have in your bath space and improve upon them. And the best part? Upgrades like these are usually quick and cost-effective. Here are some great examples: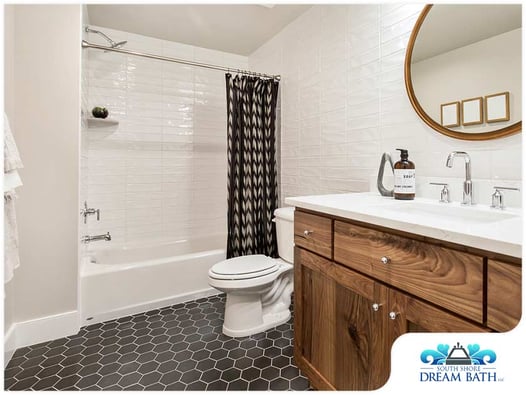 1. Get newer, more interesting light fixtures. Don't underestimate what good lighting design can do for your bathroom. By using different light sources together, you not only improve functionality in the space but also emphasize its most distinctive features. Try recessed lighting over the shower and tub area, and incorporate pendants or sconces along your sink and vanity. For that true designer look and feel, add a small chandelier in the bath space. Make sure all these light fixtures come with dimmer switches so you can easily set the mood you want as necessary.
2. Invest in bathtub liners. Your existing tub may be old and outdated, but you don't actually have to remove and replace it completely. Having a new bathtub liner installed by South Shore Dream Bath offers an easier and faster way to upgrade your current tub. Made of heavy-duty acrylic, our high-quality tub liners are designed to fit precisely over your existing tub. They're not only clean, durable, and low-maintenance, but also incredibly versatile, being available in a wide array of colors and styles.
3. Replace old fixtures and hardware. There are cases where the smallest details make the biggest visual impact. The showerheads, cabinet pulls and knobs, and faucets mainly serve a practical purpose. But with the right styles and finishes, you can make them one of your bathroom's highlights. Try to pick fixture finishes that match well with the current palette or decor of your bathroom. For instance, polished brass, copper, and bronze are ideal in traditional bathrooms, while chrome, stainless steel, and matte black pair better in contemporary bath spaces. If you need help deciding on fixture finishes, you can always consult a trusted bath renovator like South Shore Dream Bath.
Schedule a Design Consultation
South Shore Dream Bath can help improve your bathroom space in several effective ways, both big and small. Look no further for top-tier services you'd be happy to refer to a friend. Get in touch with us by calling (781) 733-5405 or filling out this contact form. We proudly serve homeowners in Rockland, MA, and other areas in Plymouth County.